#50 - My open tickets: show tickets where i am "implementer" too
drozel commented on Nov 25, 2019
Currently widget "My open tickets" shows only tickets assigned to current user with "assignee" field. It could be nice to be able to change this filter or just to show all tickets referencing to this user with other fields, like "implementer" etc.
shridhar-tl commented on Sep 02, 2018
Hi, You could use Custom report to generate such gadget and add it to dashboard. Hope that would give you what is needed.
drozel commented on Sep 03, 2018
Hi, thank you, i`ve tried it, but the "save query" button below is inactive. Is it a Jira functionality, which shall be enabled or something in Jira Assistant?
shridhar-tl commented on Sep 04, 2018
Hi, For the save button to get enabled, you will have to see if JQL is filled and Display fields are selected. Check both the tabs and do the required selections. Then Save Query button should get enabled.
If you still face any issue, then check your console and see if you have any errors.
drozel commented on Sep 04, 2018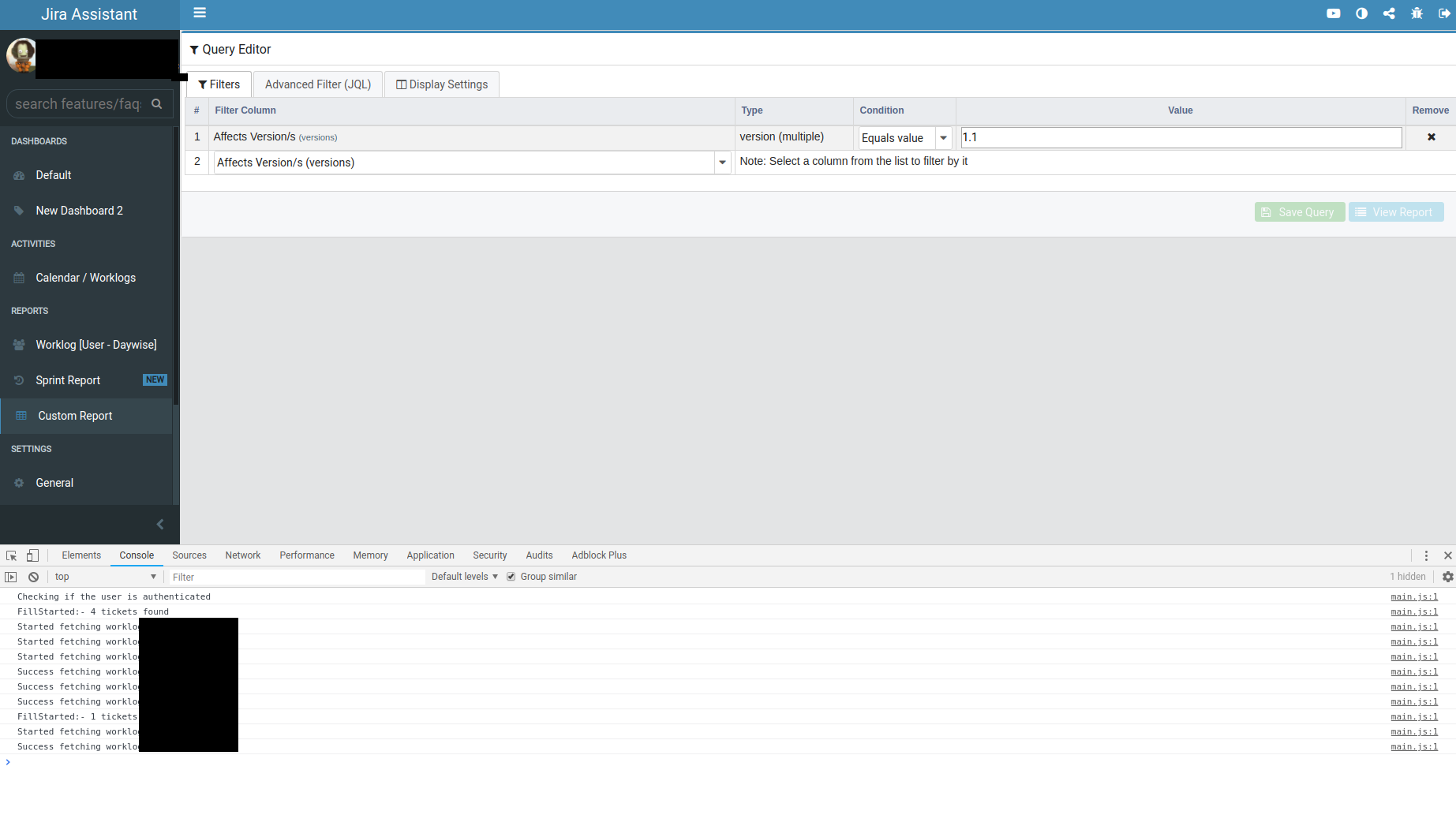 Hi, it does not work without any errors in console...
shridhar-tl commented on Oct 23, 2019
Hi, I know it is too late to reply. But I was inactive with development from long time and become active since couple of months. If you are still in need of a solution, then your can just remove the "My Open Tickets" gadget from dashboard and use the custom gadget available in following link. You may need to modify the query in this custom gadget to suit your needs. Hope this helps.
https://github.com/shridhar-tl/jira-assistant/blob/master/docs/SHARED_REPORTS.md
shridhar-tl commented on Nov 25, 2019
Hi @drozel, As part of #105, you initial request to change the JQL for My Open Tickets is now possible through Advanced Settings page. Also I hope the issue you reported in Custom Reports should also have got resolved as whole new version of Jira Assistant is published.
Hence closing this issue. If you face any other issue please feel free to reopen it.